April 30, 2012 § 5 Comments
So here goes … my instant gratification knitting, has armed me with enough inspiration and stamina to get my needles stuck into some cardigans! Yes, you heard cardigans!! I cant believe it myself … those things intimate me.
For the last year, I've been lurking around bespoke cardigan project pages, marvelling at other knitters interpretations and use of yarns. Often wondering if I myself would have the patience or stamina to knit a cardigan myself, for myself!
Well, the wait is over! I'm there!! I have finally drooled myself into irevicable cardigan knitting submission, and have queued up 11 cardigans for my knitting pleasure!!! (I'm so excited I cant stop "!"ing … hahahah)
In no particular order of importance of preference, I give you my list ….
1. Kara by Cecily Glowik MacDonald
2. Chalet by Cecily Glowik MacDonald
3. Leaflet by Cecily Glowik MacDonald
4. Girl Friday by Mercedes Tarasovich-Clark
5. fall away cardigan by Heidi Kirrmaier
6. Acorns by Carol Sunday
7. Old Town by Carol Sunday … Interesting construction.
8. Nanook by Heidi Kirrmaier
9. Off-Rib Cardigan by Stefanie Japel
10. Rivel Cardigan by Miriam L. Felton
11. Dahlia Cardigan by Heather Zoppetti
Isn't there something like a knitterly versions of nanowrimo?  Where you knit a shawl a month or a sweater a month for a year … OMG! I have 9 months left, can I really do this?! If I could queue and knit 5 of these cardigan, even I would be stoked.
Let me say this, if nothing else … I am abit ambitious!! :$ … hahahah … and it goes without saying abit excited too!
June 19, 2011 § 1 Comment
For the last 2 years I have been rather taken with Koigu yarn, whilst I'm inlove with this yarn, I'm also mindful of the cost!! Yikes! But I feel that at some stage I'm gonna have to splurge and get me some, so I can experience the joy of knitting with it … have I mentioned I'm a weak for colour :) … I'm particularly drawn to the yarn that has sprinkles of colour.
Just the other week I was perusing the WIKSTENmade blog, and came across a post on Hand Knit Socks and instantly fell inlove with the socks handknit with Koigu yarn. Personally I wouldnt knit my socks out of koigu, especially if it was 100% Merino, the sock would not go the distance … and I prefer my handknits to last alittle while ;). I would prefer nylon blend sockyarn; Merino 80%/Nylon 20% or Merino 75%/ Nylon 25% … cushy but is hardwearing.
Enter my only solution: Experimental Hand dyeing!!
The base colour is a semi solid mauve, with sprinkles of hot pink, turquoise blue & yellow … I'm curious to see how my sock knits up … I'm knitting a plan vanilla sock … I'm abit excited I had to post this :) …
June 2, 2011 § Leave a comment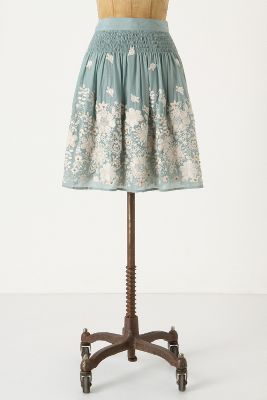 I have only to say … Its Anthrapologie I heart … :)